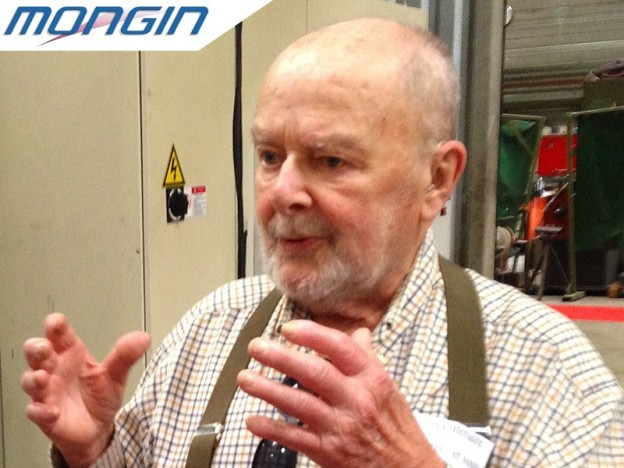 A 94 YEARS OLD FOUNDER / PHILIPPE MONGIN
Posté le 20 janvier 2018 par Admin.
A 94 YEAR OLD FOUNDER / PHILIPPE MONGIN.
---
These two days of Bicentenary on 18 and 19 September 2014, this happened in a very warm and sunny atmosphere.?The presence of Mr Philippe MONGIN, 5th generation, was much appreciated by the entire Assembly. His speech, it emerged many emotions, humor, thank him again for his visit and his confidence in the future.
---
Speech delivered in the premises of the company DGM Mongin in Grigny by Philippe MONGIN Thursday, September 18, 2014.
Several years ago, after writing, the memories of my family and the company that bears the same name, MONGIN, I had only a haunting, not to be present, to commemorate the 200th anniversary of its creation in 2014.
Also, it is with immense joy that I find myself here today, in order to celebrate this outstanding event in the life of a company.
This longevity, preserve family businesses and PME, is something that takes its value in an age rocked by successive crises: The know-how!
This know-how, though always present within the MONGIN company and one that perpetuates his name here, was not immune to certain periods where the company almost disappeared.
Revolutions, wars and attacks made him know Sometimes, an evolution in (French language) « teeth of a saw ». but, you might say, what could be more normal for a company which produced saw blades!
Today, this know-how is always present and developed by those who lead DGM Mongin, Mr Christophe COQUILLET and Alain DUTRIAUX and I thank them.
I wish, that this company going to now towards its Tercentenary. but, and you will excuse me, I'm not sure to be among you this day there! thanks you all, for these few minutes of attention.
---